The Filmmaker Team at UCI's Intellectual Property, Arts, and Technology Clinic focuses on assisting new filmmakers with their most engaging projects. The Filmmaker Team specifically focuses on fair use and capitalizes on years of expertise in helping clients make fair use of content in their films. The team leverages its extensive experience to ensure that clients are able to make fair use responsibly, safely, and appropriately. If you are interested in working with the Filmmaker Team at the UCI Intellectual Property, Arts & Technology Clinic, please visit our inquiry page (and scroll down for more information about our intake policy). Also, please note that though we work with many filmmakers, we also work with podcasters, journalists, academics, YouTubers, fanworks authors, artists, and other creators.
The Filmmaker Team may provide the following services:
Fair Use Counseling
Pre-publication review
Assistance with obtaining Errors & Omissions insurance
Licensing
Copyright
Contract Review
Business Incorporation
Representative Projects
The Filmmaker Team has engaged with numerous clients on an array of creative projects, including the following:
Let My People Vote presents the story of one man, Desmond Meade, trying to get voting rights back for all. Filmed in Tampa, 2 days before the 2016 presidential election, this verité short covers a day-in-the-life of civil rights activist, Desmond Meade. It's Sunday, "Souls to the Polls," the last day of early voting. Desmond is canvasing door to door. His mission? Assisting people in voting – something our "forefathers marched and died for." What begins as an upbeat day of faith in our democratic process ends with a heartbreaking realization: Jim Crow is not dead.

Out of State. Shipped thousands of miles away from the tropical islands of Hawaii to a private prison in the Arizona desert, two native Hawaiians discover their indigenous traditions from a fellow inmate serving a life sentence. It's from this unlikely setting that David and Hale finish their terms and return to Hawaii, hoping for a fresh start. Eager to prove to themselves and to their families that this experience has changed them forever, David and Hale struggle with the hurdles of life as formerly incarcerated men, asking the question: can you really go home again?

Ulises' Odyssey. Chilean filmmaker Lorena Manríquez embarks on a journey to search for the truth behind a 30-year rift between her father and her uncle Ulises.  The two brothers were on opposite sides in the 1973 military coup that brought General Pinochet to power in Chile and Ulises to exile in Switzerland. Through the revelation of family secrets, Manríquez exposes the recent history of Chile, her country's painful memory, and the desire to reconcile it.
Sands of Silence. A 15-year quest to expose the underworld of sexual exploitation and trafficking from Asia to the Americas leads world-reporter Chelo Alvarez-Stehle to the windswept beach where her childhood ended and family secrets began. As she documents the transformation of sex-trafficking survivor Virginia Isaias—a Mexican-American woman whose past is engulfed in a cycle of sexual exploitation—into an inspiring advocate committed to breaking that pattern, Chelo undertakes a parallel journey of healing and introspection as she sets out to shatter the silence about abuse in her own life. An intimate story about an endemic problem, Sands of Silence celebrates the triumph of the spirit with a call to action to break the chains of sexual violence worldwide.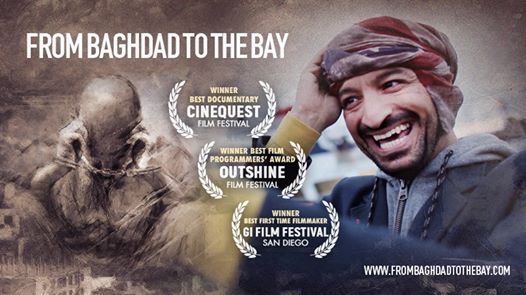 From Baghdad to the Bay is a documentary that follows the journey of an Iraqi refugee and former translator for the US military.  Wrongfully accused of being a double agent, tortured by the U.S., and ostracized from his family and country, Ghazwan Alsharif struggles to rebuild his life in the United States while coming out as an openly gay man.
Kusama | Infinity tells the story of the incredible life journey of the top selling female artist in the world, Yayoi Kusama. Kusama overcame impossible odds to bring her radical artistic vision to the world. Now her installation Infinity Mirrored Rooms sells out globally and she prolifically generates new work every day. 

Baby Brother. A look at a young man experiencing a summer impasse after moving back in with his parents.

Please inquire!
If you are interested in learning more about our work, please visit our clients page and our testimonials page.  You can also peruse our many updates on our work with filmmakers. And if you are interested in working with IPAT's Filmmaker Team, please visit our inquiry page. Because we can only take on a small number of clients, we select clients based on a range of criteria including: whether the filmmaker is part of a traditionally marginalized community; whether the filmmaker has access to funding and mentorship resources; the social impact of the project, such as whether the project exposes wrongdoing or sheds light on issues of justice and equity; and financial need. Also, please note that though we work with many filmmakers, we also work with YouTubers, podcasters, journalists, academics, and artists. If you have legal needs related to a creative or journalistic project, particularly one that involves fair use, we encourage you to reach out.
If you are interested in working with the Filmmaker Team at the UCI Intellectual Property, Arts & Technology Clinic, please visit our inquiry page.